Beauty & Self
Books & Music
Career
Computers
Education
Family
Food & Wine
Health & Fitness
Hobbies & Crafts
Home & Garden
Money
News & Politics
Relationships
Religion & Spirituality
Sports
Travel & Culture
TV & Movies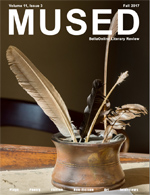 Autumn is a season for counting our blessings. For realizing just how much we have in life where so many others are without. It can often be easy to take things for granted. Things which millions of people desperately dream of having. By pausing for a moment, and looking around with mindfulness, we can find a new center. Begin with fresh energy.

Enjoy the Mused Autumn Equinox 2017 Issue



Doodle Monster - Book Review
Children's Books - Launa Stout, Editor

The ultimate doodle book to keep a child actively engaged and yet quiet.




Collecting the Dead Book Review
Suspense / Thriller Books - Karen Hancock, Editor

Mangus Craig, "Steps," has a special ability which allows him to see the essence or aura of people. This is helpful in his job with a special tracking unit of the FBI. He and his partners are tracking a man referred to as the Sad Face Killer, and must find him before more bodies turn up.




A Flash of Green Film Review
Drama Movies - Angela K. Peterson, Editor

"A Flash of Green" features Ed Harris in his first leading role. Harris plays a newspaper reporter drawn into a dirty political fight that pits conservationists against real estate developers. Blair Brown plays the woman Harris loves, Richard Jordan co-stars as a devious politician.




Green Tea/Matcha Sugar Scrub
Tea - Mary Caliendo, Editor

Green Tea And Matcha skin care and DIY Green Tea/Matcha Sugar Scrub




Bloemenweedle - Ineke Kuiperij
Tatting - Georgia Seitz, Editor

Ineke combines traditional tatting with free form tatting and wire work to create these lovely tatted flowers. She gives us patterns for roses, daffodils, tulips, anthurium, hydrangeas , anemones, Asiatic lilies and calla lilies.




Obesity – New Research Shows the Deadly Truth
Nutrition - Moss Greene, Editor

What is the truth about American deaths caused by obesity complications? New Columbia University research shows that it's much worse than previously thought.


| Google+ |
E D I T O R R E C O M M E N D E D
Addicted to Stress by Debbie Mandel


A Woman´s 7 Step Program to Reclaim Joy and Spontaneity in Life (Hardcover) In this highly original program for stress reduction, stress management expert and radio personality Debbie Mandel explains that women who are constantly stressed out have forgotten the dreams of the free-spirited girl living inside them before they became somebody's wife, mother, or workplace colleague.
Your Adoption Guidebook


Considering adoption and not sure where to start? This handy guidebook is for you! You'll find everything you need to decide if adoption is the right path and then learn how to begin the process.