Beauty & Self
Books & Music
Career
Computers
Education
Family
Food & Wine
Health & Fitness
Hobbies & Crafts
Home & Garden
Money
News & Politics
Relationships
Religion & Spirituality
Sports
Travel & Culture
TV & Movies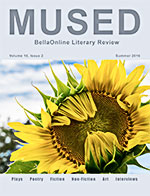 For many people, summertime is the perfect time to explore creativity. Plein air artists bring easels to gardens and beaches, showcasing nature's colors in oils, acrylics, and watercolors. Photographers ferret out a million sights to immortalize. Poets and writers stretch languidly beneath a shady oak tree, listening to the gentle buzz of insects, and constructing entire worlds out of the ether.

Enjoy the creativity of our community of artists - and then explore your own! We'd love to see your works for upcoming issues!

Summer Solstice 2016 issue of Mused

Money, Mishaps and Murder Book Review
Suspense / Thriller Books - Karen Hancock, Editor

The grisly murders of two people are being investigated by CPI Dexter Smalacombe and his new sergeant, Emily Corndon. The murders don't seem to be connected, but as they delve further and find new clues, the connections become obvious, and the twists and turns will keep readers on edge.




BPA and PCOS
Infertility - Hannah Calef, Editor

BPA could exacerbate PCOS




Canadian Stamp Collecting
Stamps - Gary Eggleston, Editor

Stamp collecting is one of the most popular hobbies among Canadians. Canada has great respect on Stamp collecting which dates back to as early as the 17th century.




Coin Clubs
Coin Collecting - Gary Eggleston, Editor

People engage in social activities for many reasons; most common is sharing in the same interest and passion as other people. It is in places like these that information about a certain subject is shared and new ideas and trends are revealed that keep its members up to date with current events that




Choosing the Right Tennis Pro
Tennis - Sandy Eggers, Editor

Do you want to learn how to play tennis? Have you thought about taking tennis lessons? The first step is to find the right tennis instructor.




Bridesmaids
Movie Mistakes - Isla Grey, Editor

Annie gets more than she bargained for when she agrees to be best friend, Lillian's, maid of honor. Try to find these movie mistakes in "Bridesmaids".


| Google+ |
E D I T O R R E C O M M E N D E D
How to Buy Your Next Car


A true car buying expert explains in detail how to buy your next car. From credit and financing to dealer cost and sales tactics, "How to Buy Your Next Car" is full of insightful information to help you avoid making typical car buying mistakes.
Christian Living Site Shop


Find book reviews of Christian Books both fiction and non-fiction. Read my experience in purchasing a Bible Book Cover.
The Weiser Field Guide to Cryptozoology


The Weiser Field Guide to Cryptozoology by Deena West Budd includes information, interviews, and stories about forty different cryptids seen in various places all over the world by credible eyewitnesses like policemen, rangers, and doctors. Readers will learn where and how to find flying humanoids, hairy humanoids, giants of all kinds including rabbits, bats and spiders, goblins, and vampires.